Security doors, class II according to PN-EN 1143:2006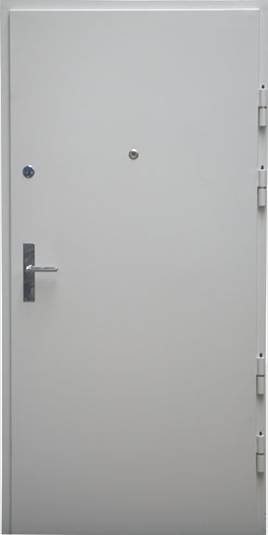 They are produced are on individual order in any size. Door can be made in single-door or in two-door versions

Frame construction of the door, enhanced steel closed profiles filled with concrete. They prevent torch cutting and the space between the profiles is protected with additional elements of steel and filled with mineral wool.

The whole structure covered with two steel sheet 2.0 mm thick forming door leaf.

The wings on all four edges have valve faces with gasket. The doors are hung on four hinged with roller bearings.

The frame is made of metallurgical profile with a U-shaped or bracket 6 mm thick, 20 mm threshold, on the hinge side three burglarproof blockades.

Security doors are closed under the handle lock class 7 and additional key lock class A.

Security doors can be used as interior doors opening direction inside or outside the protected space.

The door may have glazing with bullet proof glass and can be made in a two-door version with solid or glass level raiser and extra side.

Types of finishes;
- Standard spray painted in any RAL color
- PVC woodlike veneer – in option
- Decorated with MDF thickness 6-10 mm - in option
- Decorated oak veneer with a thickness of 6 or 10 mm - in option

Technical parameters;
- Leaf thickness – 60 mm
- Leaf weight without additional cover – 105 kg/m2
- Resistance to burglary - Class II according to PN-EN 1143-1:2006
- Sound insulation - Rw = 40 dB according to PN-EN ISO 717-1: 1999
- Corrosion resistant - category C3 according to PN-EN ISO 12944-2: 2001
- Resistance to wind - Class 5C according to PN-EN 12210: 2011
- Water resistant - Class 3A according to PN-EN 12208: 2001
- Thermal transmittance – 2,1UW (W/m2 * K) according to PN-EN ISO10077-1:2007
- Air permeability - Class 4 according to PN-EN 12207: 2001
- Mechanical endurance- Class 4 according to PN-EN 1192: 2001